As a Liverpool fan, I am bitterly disappointed for various reasons. Yes, there was a poor game in which Manchester United emerged victorious without too much effort to temporarily climb ahead of their local rivals and seeming champions elect, Manchester City. Our display was poor for many reasons and a couple of close friends of mine have some texts in their possession from quite a maddened individual. His whereabouts are currently unknown but he may be bouncing around between now and May. We were victorious in the FA Cup which was pleasing but in the most important English competition of all, where domestic history is made, we were beaten by a superior side. United may have certain problems which may prevent them from retaining their title but they are not team spirit, experience, determination and tactical intelligence. Well done United but on Saturday 11 March 2012, you didn't have to beat a very good team.
On Paul Scholes, all I can say is I am ashamed to have lived in an era where we had a player like that at his peak and we didn't build a national side around him. You don't build a team around an efficient goal getting midfielder or an all action midfielder but a true playmaker with tactical intelligence (plus goals in him at his peak), composure, vision and teamwork. That's if you even possess such a player. He retired too early and at 37, should be held as an example to English midfielders at youth level no matter what role they play. Watch the teamwork, understanding of position and composure but forget the tackling!
"Luis Suarez has got a black granddaddy. Just so you know. "
Apologies have already been dispatched but I will move on to an issue which I would rather not but I must speak, write and type according to my conscience and whim as all better individuals have done in the history of humankind. All right, I should probably not be as grandiose but it may be apposite to consider the human factor. I am most certainly not keen to criticize the club I support in public but sometimes (not often, mind you) there are earthly matters more important than supporting a football club. Patrice Evra offered his hand and Luis Suarez refused to shake it. Let me rephrase, Patrice Evra offered his hand to Luis Suarez and it was ignored. Ah, that was it, I remember now. At Old Trafford, Luis Suarez was found guilty of racially abusing Patrice Evra, served an eight match ban and when faced with the victim of his abuse in his second game back for Liverpool, ignored his hand. To the delight of the travelling support.
Luis Suarez's
behaviour
was a disgrace to our great club but a more sombre reality was that our greatest ever player and current manager seemingly supported his reprehensible
behaviour
. I am referring to something far more important than a handshake but let's include the handshake anyway. So it was not once, but twice. Kenny Dalglish has shown himself to be a decent and principled man yet he did not answer questions honestly when his great rival did the same. I congratulate Sir Alex Ferguson on the win (not really), his frank appraisal of the situation, lightly reproaching his own player on a sensitive occasion and expressing his desire for this problem of racism in football to cease.

However, Sir Alex did not have and never will have the right to dictate which Liverpool player should be sold and when. He didn't sell Cantona after his audition for a spot alongside Yuen Biao, Sammo Hung and Jackie Chan. Neither did he jettison Roy Keane after his "take it back to the old skool" (note "urban" spelling) tackle on Afl Inge Haaland. It's easy to stand by a player when his autobiography tells us the following: "I'd waited long enough. I fucking hit him hard. The ball was there (I think). Take that you cunt. And don't ever stand over me sneering about fake injuries." Lovely. So you can see why it is a sad day when the manager of Manchester United generally spoke with greater clarity on the affairs surrounding Liverpool football club than our own King Kenny. Dalglish will always be the king and the Liverpool faithful would have listened to him if he had a conciliatory message when the Evra-Suarez issue began.
"He killed that with one tackle. It was the last of its kind."
Whatever anyone thinks of Patrice Evra (unsavoury and flippant fellow but unjustly abused), he was willing to shake Luis Suarez's hand despite what happened and believe me, he has my respect for that. Suarez's behaviour did not befit a Liverpool player. Bill Shankly would not have accepted such insubordination nor would Bob Paisley have been proud of Suarez's poor example to youngsters who follow the club. Dalglish supported him and foolishly so. How did Suarez repay Dalglish's misguided but well-intentioned support? That's not a Liverpool player. That's not a team player. Luis Suarez had been allowed to become a bigger story than our football or our progress. This has been poorly managed and the reaction of Liverpool fans, some of whom I have a lot of respect for, has been extremely disappointing. On Luis Suarez, I think it is important to distinguish on between saying something racist and actually being racist even when the difference between the two is difficult to ascertain. It may be important to recognise that Patrice Evra and the report noted that Luis Suarez was, drum roll please...not a racist.
Suarez has
apologised
for not shaking Evra's hand and I hope that in time, Patrice Evra will a
pologise
for his somewhat exuberant celebrations. Evra's actions at the end of the game were irresponsible. Manchester United did not win the league title in that game and even they did, no player should celebrate in such a way in such a game. I understand that it was difficult for him because he came out to report something which he had a right to. What may have impaired his judgement was the stark fact that he did not and still does not deserve the abuse. He is the same age as me and sometimes in football; only by acting with maturity and Mandelaesque dignity can you silence fans. It may be a sad fact but that's how it is.
I was interested in various approaches to the exchange between the two players and I sifted through a multitude of opinions on what is acceptable. So, let me ask a few questions. Suarez admitted to calling Evra a "ne-gro" in a heated argument. Context is key. If I drop something in the street, should I expect someone to come up to me and say, "Here you go black man." Is that acceptable? If there was a sole white man at a table and someone wanted to point him out then surely it would make sense to mention his colour. In a disagreement of some proportion, what does a reference to one's colour usually tell us? Is there a problem with people believing that racism isn't important, that it should be forgotten and people should "rise above" being demeaned, abused and targeted?
"Is it just racism or is it a culture of abuse?"
My understanding is that there are fans and average people who would rather not hear anything about racism because it simply isn't a problem, priority or an issue for them. We shouldn't forget all the measures that have been put in place to ensure racist behaviour was drastically reduced at English football clubs. Is this something to commend or something to notice? That we needed to do so much to actually reduce the occurrence of incidents at games and communicate the unacceptability to fans. Someone can learn to keep quiet for over 90 minutes but that doesn't mean that certain beliefs will change no matter how many t-shirts are worn, handshakes there are and empty platitudes we hear.
What Suarez said was not acceptable to me but I
realise
that there were things which were said between the two that we cannot be sure of. What I can tell you is that the Suarez-Evra issue attracted more discontent than it should have done and even though I was not around at the time, I'm sure that in the 1980s many people who were at football grounds thought that it was acceptable to abuse black players in the way they did otherwise it wouldn't have needed such a push to ensure that fans kept their thoughts in their heads when they were in stadiums across the country. That's what has happened; racism hasn't been greatly lessened but it's just not as prevalent where the eyes can see.
The world is bigger than Great Britain (I know, it never used to be) and I understand that in many countries it common to call black people many things some of which are far worse than "ne-gro" but that doesn't make it right. Many different types of people are spoken of in terms related to actual appearance. We all register people's appearances based on race, age and gender. This is normal, scientifically so. Perhaps this is not discussed as often and in a football blog (I need to post more articles, I know) this level of analysis may seem slightly uncanny. Yet there are many terms used worldwide to refer to black people on an everyday basis are terrible and reflect the conceptions held. The terms "ne-gro" (black) and "blanco" (white) will be some of the least offensive one will hear but in the context of a heated argument, intention to injure and/or demean is clear.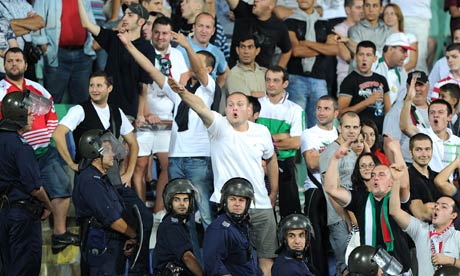 "Governments worldwide are conducting studies to see if gatherings of large numbers of men are linked to the problem of abuse in football."
I have understood that when it comes to decency, fans would excuse almost anything to support their club including racial abuse, homophobic abuse, bullying, and violence. Just ask Arsene Wenger, Graeme Le Saux, Sol Campbell, Stan Collymore and Billy Sharp. Football is supposed to be a game where we can forget our troubles and experience pure theatre, surprise and entertainment. I think this notion (if all involved parties are comfortable) was behind Sepp Blatter's poorly expressed sentiment to shake hands in the "spirit of the game" which can be important for youngsters reared up on a healthy diet of football. The problem is that many fans think it is acceptable to move beyond boundaries of decency to abuse a player, more so if he's an opposing one. It is not. If football is our outlet for the darkest recesses of our psyches then that's a problem we will all need to address as a society. If a player or someone on his behalf complains about abuse what will happen? He gets abused even more, regardless of whether his complaint is justified or not. If that is not a culture of suppressing players' voices then I don't know what is.
If I was fortunate enough to be a professional footballer who would be earning plenty of money and enjoying the company of women who enjoy my personality, I would not complain at all if I was racially abused. I thought I would stand up for what's right and shame the abuser but I would be called a liar, abused at grounds and have fans mock me for being "a baby" for saying anything. It seems to me that bringing the issue up is an inconvenience for many fans who feel that players are just ruining the spectacle. I'm sure some would indeed hope that these players remain silent on these issues, get on with the game and continue to provide an escape from life's daily monotony. This kind of relationship reminds me of John Fashanu's approach to his brother's homosexuality. Justin should have just kept quiet, not come out and cause any inconvenience to John's life. The subsequent abuse wasn't the chief problem itself; it was Justin Fashanu bringing anything out into the open and this carried a heavy price.
Lets all shoot the messengers.